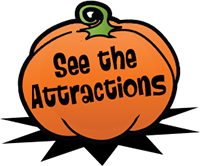 We're proud to be one of the farmers across the great USA to be celebrating the 50th anniversary of It's the Great Pumpkin, Charlie Brown. The Great Pumpkin first appeared in the famous Peanuts comic strip in 1959 and the TV special came out in 1966. Many remember that the World War I Flying Ace (our beloved Snoopy) flies for the first time in this special!
During our Fall season, visit the Pumpkin Growing Patch, and see the brick wall that is a favorite hangout for the Peanuts characters. Watch for more Peanuts-themed events as we begin the celebration! 
The Raptor Center will be having a Birds of Prey exhibit at the farm this year.  Come and learn about these beautiful birds and the wonderful work that the center is doing to save them. Dates to be announced.