We have 90+ A-Mazing acres in beautiful southern Michigan — and 45+ attractions and activities for unique family entertainment. Our farm opens each year in the Fall for a traditional harvest season celebration … and more! Get tickets now …
We've got Pumpkins!
Come for pumpkins! Pick a few and bring your camera, as the photo opportunities for kids-plus-pumpkins are endless! Find out more about our Pumpkin Patch and see what varieties we're growing this year. It can be a "hair raising" experience for some folks!

Spend the Day!
Take an old-fashioned hay ride around the farm — you'll meet our friendly horses on the way. Get lost with your friends on the almost 4 miles of trails in the corn maze. Hop on the jumping pillow, visit our charming goats, and try your skills with our apple cannon! 
Plus, we'll have weekend entertainment! Good things to eat! Campfires, friendly farm animals in our Barnyard, lots of photo props … whew! That's a lot!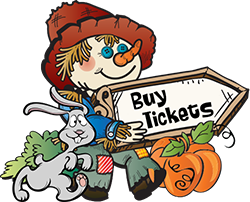 2017 Season: September 15-October 29
Open Tuesday-Friday  4-8pm
Open Saturday-Sunday  10am-8pm 
Last ticket sold at posted closing time; farm closes 1 hour later.
Farm Admission $10.00 ( 3 and up)
Includes unlimited time exploring the Corn Maze, plus:
Miners Mountain Slide, Jumping Pillow, Kids Jumping Pad, Corn Boxes, Goat Walk/Barn, Pedal Cart & Trike Track, Giant Spider Web, Punching Pumpkin Race, Sioux Tipi, Roping Steer Heads, Rat Racers, Rubber Duck Races, Hoppy Horse Corral, Corn Hole Games, Tube Swing, Kids ZipLine, Photo Props, Giant's Chair, Corn Stalk Tunnel, Tug O War, Wooden Horse Family, BunnyVille, Chicken Coop, Turkey Pen, Three Little Pigs, Farm Animal Fence Maze, Outhouse Row, Pumpkin Tether Ball, Milk the Cow, Farm Volley Ball, Pumpkin Checkers, Who's Your Pumpkin, Life Size Lincoln Logs. New this year, a giant Connect Four!
Combo Admission $17.00 (3 and up)
Includes all covered in Farm Admission, plus your choice of 3 of these additional activities:
HyStryker, Gem Mining, Hay Ride, Cow Train Ride, Apple Cannon.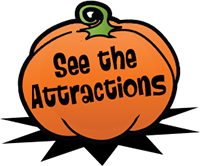 Extra Fee Activities
Apple Cannon: 3 shots for $2 [or]10 shots for $5
HyStryker: 3 swings for $2
Farm Hay Ride:  $4
Cow Train Ride:  $4
Gem Mining:  $5 per bag of Dirt Rough, your choice of arrowheads or shiny stones.
New this year!
We're offering the option for you to purchase tickets online! One-click shopping saves you time … and with our special pre-season promotions (watch Facebook for details and purchase code!) you can save money also! Plus, we think tickets to A-Mazing Acres would be a lovely gift for friends, family, or grandkids.
We accept Cash, VISA, Discover, MasterCard, debit bank cards and business account checks.