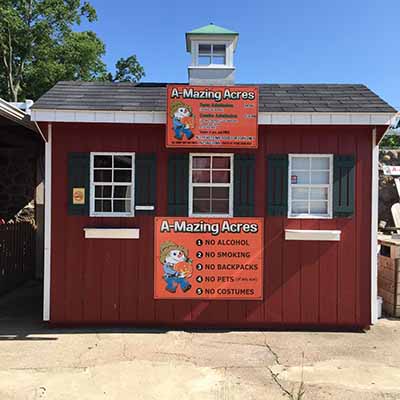 A Few Rules & Policies
We do have a few friendly rules and policies for A-Mazing Acres Farm guests that are to promote the safety and well-being of everyone.
Those who feel that they cannot comply will be cheerfully escorted right back out the gate by the resident Corn Monster.
About Admission to the Farm
We have a No-Drop-Off policy. Guests age 13 and under will be admitted with a paid adult only. Teen must show school ID for admission. Unattended children will be given free kittens.
What age is A-mazing Acres Farm appropriate for?
From 2 to 92 is our saying. You can do any or all the activities that we have. You pick-and-choose what you want to do. One of the greatest things about A-Mazing Acres is the fact that it offers something that everyone can enjoy. From babies, all the way up to the grandparents. Our goal is to make sure everyone in your group leaves with memories they will cherish!
Do I have to pay admission if I don't want to walk through the Maze and just sit in picnic area?
Yep, there is a Farm Admission whether you want to Get Lost or not! It's just like Cedar Point or the Zoo, everyone has to purchase a ticket to gain entrance.
Are there refunds if guests leave due to rain? 
No, but you can check with the ticket booth before you leave the maze to see if they will give you a rain check allowing you to return on a future date.
Are you closed if it has rained?
If we feel that the Mazes are too muddy, we will close. Call to check or look on Facebook, if not sure. Remember it can be raining where you are and sunny here.
Is smoking allowed?
If you are seen smoking within the maze grounds, we will assume you are on fire and take appropriate action!
Can we bring our own food and drinks?
You may bring your own food to the campfire sites and to the Party Loft room. You may purchase concessions at the Pumpkin Cafe, Kettle Corn Shack and various Snack Silos throughout the farm!  We promise you, we have lots of goodies for your enjoyment.